Details

Written by

Andy Fox

Category: Villas Fox Blog
Hits: 866
Spanish property prices set to rise again in 2019 (estimated 5%)
According to this article published today on the website Eleconomista.es the future is looking bright for the Spanish property market in 2019
"
Ten years after the bursting of the housing bubble, the housing market can celebrate that it has lived its best year in 2018 after the crisis, registering a year-on-year increase in prices of 5.8% in the last quarter of last year.
It is the highest price since the third quarter of 2007, the year in which the houses touched ceiling with average prices of 2,044 euros per square meter. Now the finished housing (new and used) stands at 1,337 euros, which means that the market is still 34.7% below the peak, according to the latest Tinsa study.
The year 2019 also starts with good prospects according to the experts, although they warn that in large cities, which have been pulling the price up to now, "some symptoms of fatigue are starting to appreciate in the growth rate".
"Some symptoms of fatigue in the rate of growth begin to be appreciated".
"The housing market will continue to show clear signs of recovery because we are in an expansive cycle of the sector, but it will be a more moderate growth than we have seen this year for two reasons: the forecasts of different international organizations and of our own Government point to a weak growth and, secondly, because the context of financing will change with an eventual rise in rates and new rules in the market, such as the mortgage law ", highlights Beatriz Toribio, Director of Studies and Public Affairs of Fotocasa.
In addition, the expert says that "this recovery will be more contained because, as our studies reveal, the demand of the average citizen does not quite wake up." Although in 2018 we had a more positive macroeconomic context, the loss of purchasing power of the Spaniards during the crisis, the lack of savings, the quality and temporality of employment in our country complicate access to housing, especially in the most difficult age segments, such as young people ".
More sales and mortgages
It is estimated that the Spanish economy will grow in 2019 at a slightly lower rate than the current one, with an expected average annual variation of 2.6% in 2018 and 2.2% in 2019, according to the Funcas forecast panel for November 2018, with a lower contribution of demand (slowdown in the growth of private consumption) and perhaps a greater contribution of exports. In any case, the unemployment rate would continue to fall.
With these forecasts, from Tinsa hope that "the residential market continues to grow in number of transactions at a good pace, although somewhat more moderate than in recent quarters, while the price increases are consolidated outside the main urban areas and coastal territories, where until now the bulk of the recovery of values ​​has taken place from a minimum, the new mortgages will grow at a somewhat greater rate than the total transactions and the new work will continue its path of recovery ".
Specifically, the appraiser estimates that the average price of the house will increase between 5 and 7% next year.
Regarding the number of operations, "economic recovery, employment and the consolidation of mortgage financing will allow" we close 2018 close to 520,000 sales transactions, which would be 12% more than in 2017 and exceed for the first time since 2008 the barrier of half a million sales, "says Toribio.
Thus, these figures will continue to increase, but at a more relaxed pace, according to the forecasts of the Ministry of Development, which expects the volume of operations to be between 625,000 and 650,000, which represents a growth of 5-10.
New housing
With regard to mortgages Toribio estimates that 2018 will close around 350,000 mortgages, 12% more than a year ago, while Notaries foresee for 2019 an increase of between 10 and 15%, reaching between 275,000- 300,000 operations.
According to the report of Sociedad de Tasación, in 2018 the average price of new housing in Spain increased by 5.4% in provincial capitals, reaching 2,348 euros per m2, with a 2.8% growth in the second half of the year, less than 3.3% registered in the same period last year. According to this study, the average price of a typical house of 90 m2 in provincial capitals is 211,300 euros.
The lack of savings, the temporality and quality of employment complicate access to housing
The provincial capitals, led by Barcelona (4,188 euros), San Sebastián (3,515 euros) and closely followed by Madrid (3,404 euros), continue to exert a driving effect on the increase in the prices of the national territory.
In the rest of the cities studied, which are not provincial capitals, the average price of a new house was 1,632 euros per m2, which represents an increase of 3.3% compared to December of the previous year.
According to the estimations of the Appraisal Society in 2019, the price of new housing will grow, on average, in a range of between 4.5 and 5%, provided that the fundamental variables of the Spanish economy and the international context do not suffer alterations of non-real estate causes."
Details

Written by

Andy Fox

Category: Villas Fox Blog
Hits: 2087
This morning Sorelle and I were invited to the Help Vega Baja (a fantastic local charity) HQ by Michele, Richard and Erna to present the 4 pull-up displays which Villas Fox are proud to have sponsored. One of the new ventures of Help Vega Baja is a 24-hour emotional support helpline (run by trained volunteers) called "Connections". They also have a "Drop In" service at their San Miguel office (Calle Lope de Vega, 46) on a Monday, Wednesday and Friday afternoon between 2 pm and 5 pm. For more information, go to https://www.helpvegabaja.com/ (or visit their Facebook page: https://www.facebook.com/Help-Vega-baja-124711764267465/)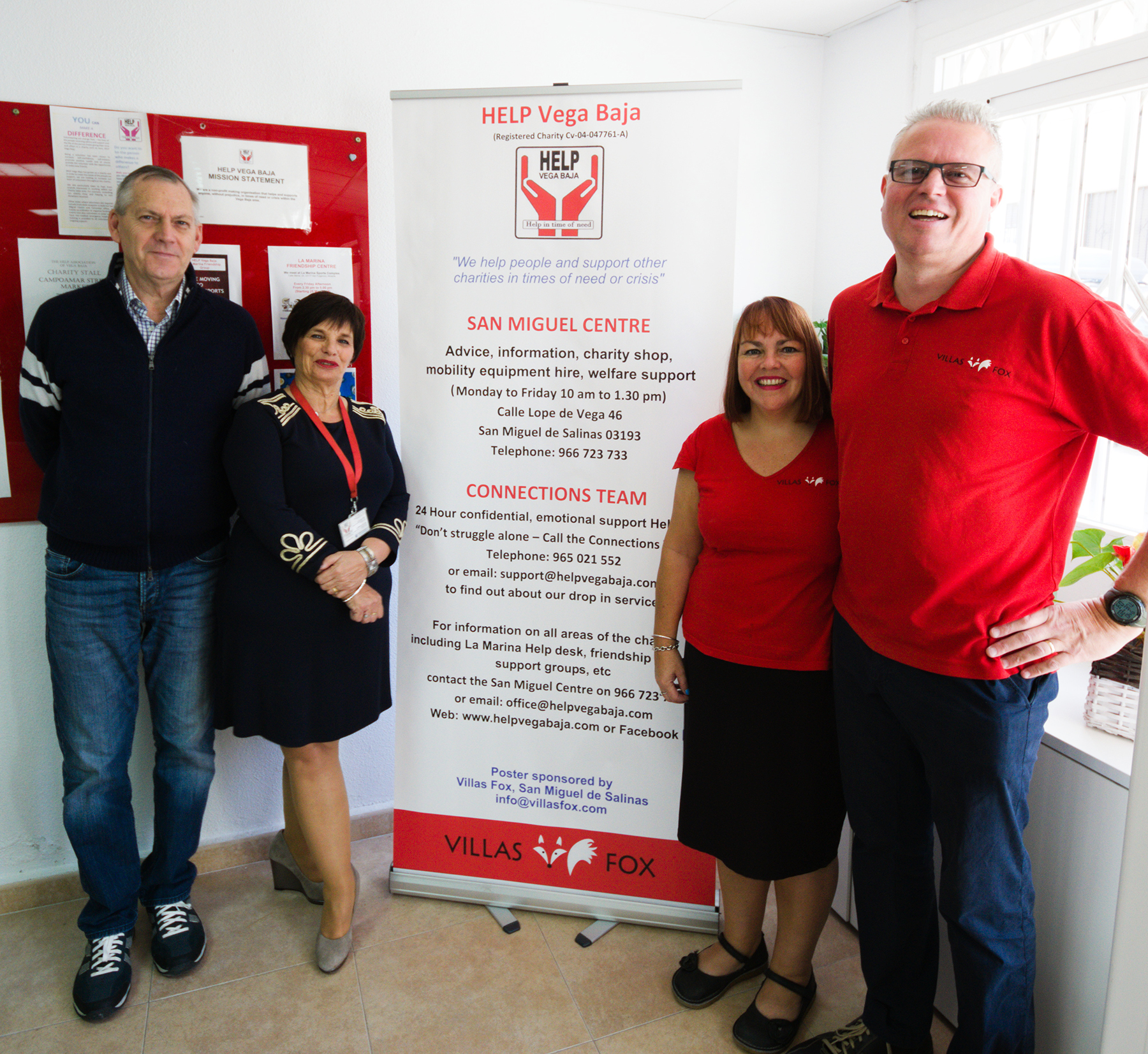 Details

Written by

Andy Fox

Category: Villas Fox Blog
Hits: 2506
Keep up-to-date with all our news and property updates by subscribing to our Mailchimp mailing list!  You can safely unsubscribe at any time
Details

Written by

Andy Fox

Category: Villas Fox Blog
Hits: 2503
 BUYER´S GUIDE – for when you´ve found your perfect property
Here´s a guide to buying Spanish property that we´ve put together to help you.  You can also download the AIPP buyers guide here.
1.      Inspect the property thoroughly, making sure you are satisfied with the state of repair of the property and its contents.  Make an offer, stating how you will finance the property, and how soon you will be able to complete. If you are a cash buyer, indicate where the funds are held, and how quickly they can be released.  If you need a mortgage, then we may ask you for information about income, existing loans etc, to assess your chances of getting the mortgage you need.  The offer price is exclusive of taxes, registry, notary and solicitor fees which can add approx 10% plus 2-3,000 euros to the overall cost).  Eg if your offer is 70,000 euros then you will need approx 79-80,000 euros to complete.  Bear in mind that any items included in the furnishings are sold as seen and in the case of electrical appliances as untested and without any guarantee.     
2.       When the offer is accepted, and an approximate completion deadline agreed, ask for a copy of the title deeds, SUMA (council tax) and utility bills to be sent to your solicitor, so they can verify the legality of the property.  If you don´t already have a solicitor or lawyer, then we can offer suggestions, but we recommend that you use a fully-qualified and registered lawyer.  You can check if your lawyer is registered on the following website: (http://www.abogacia.es/servicios-abogacia/censo-de-letrados/) by typing their name (nombre) and surname (apellido) into the form, and then pressing "buscar".  
3.       Whilst your solicitor is checking the title deeds, it´s best to lodge the deposit (usually 3,000 euros) with your solicitor or the agent, who will release the deposit to the vendor when the checks have been made.  Some vendors will not take the property off the market until they are in receipt of the deposit themselves.  Therefore, it´s ESSENTIAL that your solicitor makes these checks in a timely fashion, otherwise another buyer could reserve the property.  It should take no more than 2-3 working days to do these checks in most cases.   
4.       A reservation contract will be drawn up (either by the estate agent or by one of the solicitors) stating the purchase price, deadline to complete etc.  If the property is to be sold furnished, then an inventory is sometimes included in the reservation contract.  
5.       Both parties sign the reservation contract and the deposit is transferred to the vendor.  The deposit is non-refundable, and often the reservation contract states that the vendors will have to return double the deposit if they are unable to complete the transaction. 
6.       In some cases (eg where the time to completion is going to be longer than 6 weeks), it will be stipulated in the reservation contract that an additional deposit (part-payment) will have to be made prior to completion.  
7.       Arrangements need to be made to send the necessary funds to Spain if they aren´t already here.  We can assist with currency exchange companies to reduce bank charges, and help with opening your Spanish bank account.  We can also help arrange a Spanish mortgage for you too.  
8.       All buyers need to have their own NIE (foreigner identification number) number and certificate, which your solicitor can help obtain for you.  It can take a few days or weeks to obtain.  
9.       Ask us for a quote for home insurance, and talk to your solicitor about making a Spanish will.  
10.   You will be informed of the date, time and notary where completion is to take place.  If you are unable to attend personally, you must grant your solicitor power of attorney in advance.  This is a very straightforward process and can even be organised in your home country, but it´s usually easier to do it at a Spanish notary.  
11.   On completion day, prior to going to the notary, you will normally go to the bank to obtain the various bankers drafts and cash required to complete the transaction.  If you request in advance, you can also make a brief, final check of the property.  
12.   At the notary, you must bring your passport, original NIE certificate, proofs of deposit payment/s and details of how the deposit payment/s were made including bank account numbers.  The vendors or their solicitor will bring the energy certificate, habitation certificate, keys etc 
13.   It´s not uncommon for completion at the notary to take up to 3 hours, sometimes even longer, so be prepared for a long wait, or consider giving your solicitor power of attorney before hand!  
14.   The notary will insist that you have someone (usually your solicitor) translate the deeds to you if you aren´t a fluent Spanish speaker.   
15.   Upon signing of the title deeds and exchange of bankers drafts, the keys are yours – congratulations!  
16.   Your solicitor will arrange for the electricity and water contracts to be changed into your name.  Some monies will have been retained from the vendor to cover any estimated usage that hasn´t already been billed.  
17.   It is advisable to have the locks changed.  
18.   Your solicitor will pay your sales tax, notary and registry costs for you, and ensure that the property is registered in your name at the land registry.  If you have taken a mortgage, the bank will take care of this.  
19.   If you will be living in Spain most of the time, when you have time,  go to the town hall to register on the padron  (so you can vote in local elections and the town can claim the correct amount of funding from central government)  
20.   Enjoy your fantastic new place in the sun!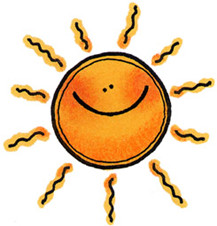 What else can Villas Fox help you with?
·         Home insurance
·         Motor insurance
·         Alarm systems (we are agents for Securitas and can advise on the best sytem for you)
·         Currency exchange
·         Key-holding
·         Financial advice (eg pensions)
·         Translation services
·         Painting, decorating and other building work
·         Grilles
·         Toldos (awnings)
·         Swimming pool construction and maintenance
Details

Written by

Andy Fox

Category: Villas Fox Blog
Hits: 1331
Have you ever looked at the photographs of a property, and despite them giving you a good idea of how each room looks, you are still left baffled as to how these pieces of the jigsaw fit together to make the whole house?  Of course, when you view a property in real life, this all becomes apparent, but wouldn´t it be better to have an understanding of how the rooms connect with each other BEFORE you decide which properties to view?  And wouldn´t it be good to be able to compare room sizes too, from the comfort of your own home?
So, we´ve decided to start offering owners the option of having 3D floorplans and 3D virtual tours to enhance their property listings.  Because these take a considerable amount of time to generate, it will be a while before we can offer them on more than a few properties, and we will be concentrating  on the properties where we are the sole agent.  But we believe this will make it easier for us to connect the RIGHT PROPERTY to the RIGHT CLIENT in a more efficient manner.
At the time of writing, we have done this on 2 properties (we´ve only had the necessary software about 4 days), and we have created a new property category so that you can find all such properties easily.  Just click on the Properties menu, select "Properties by Category" and then "3D Floorplans".  Or just click on this link
To view the Live 3D virtual tour, you may be prompted to install the Roomsketcher App on your device.  The app is perfectly safe and has over 100,000 users!