FOXBLOG!
Details

Written by

Andy Fox

Category: Villas Fox Blog
Hits: 72
Do you want to gain an extra income by renting your property?  If so, then the first question is "long-term" or "short-term (holiday lets)".  Although it can seem more straightforward to find a long-term tenant, under Spanish law any long-term tenant can exercise their right to stay in the property up to 5 years, and therefore you need to be prepared for this, and possibly other difficulties in terminating the arrangement.  That´s why a lot of owners prefer to rent their property on a short-term (holiday let) basis.  However, that involves a lot more work in finding the clients, managing the bookings, arranging for cleaning etc.  That´s why many owners also rely on a professional property management company, who have expertise in this area, and can take care of everything for you, and give advice about tourist licence requirements etc.  
So, how do you find a professional property management company?  It´s not always easy, and at Villas Fox we have sadly heard lots of stories about owners who have been let down badly by their property agents.
Our main focus is on sales at Villas Fox, but we can recommend an international company that has been specialising in professional property management for owners of holiday let apartments and villas all over Europe for over 50 years.  We have clients who have used their services and been delighted.
You get a free insurance for your holiday home, hassle-free coverage of minor damages, payment of your rental income prior to your guests' stay as well as guaranteed payment in case of late cancellations.
So, give us a call (or email) today, and we can point you in the right direction!
This email address is being protected from spambots. You need JavaScript enabled to view it.
Details

Written by

Andy Fox

Category: Villas Fox Blog
Hits: 2857
We are delighted to report that we are very busy at the moment, with several sales being agreed recently.  The buyers are a mixture of nationalities as always, and some very happy Spanish buyers have just snapped up this wonderful new home, which has only been on our website for 14 days!
If you are looking to sell your Spanish property, make sure you use an agent with an international approach to marketing your property professionally.   Yes, I mean us!!!  
Balcón de la Costa Blanca 3-bedroom townhouse Puerta Laguna II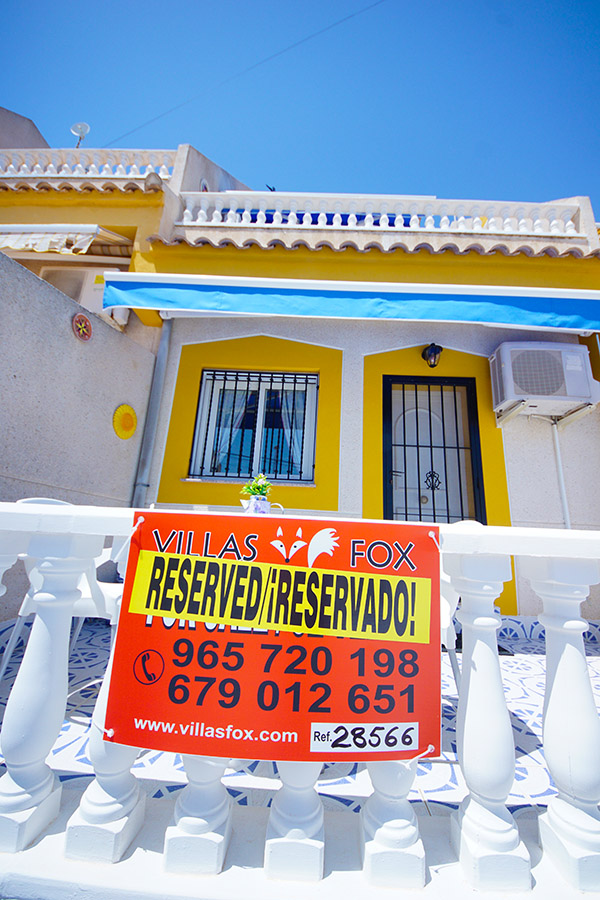 Details

Written by

Andy Fox

Category: Villas Fox Blog
Hits: 952
21 ! Since lockdown we have now sold TWENTY-ONE properties in the San Miguel area, and we now need MORE to sell! With our professional international marketing service, your Spanish apartment, townhouse or villa could be number TWENTY-TWO !! We have buyers of various different nationalities looking all the time, so give Villas Fox a call today on +34 965720198 or email us at This email address is being protected from spambots. You need JavaScript enabled to view it.. Even if you can´t come to Spain right now, if you have a key-holder we can start marketing your property next week!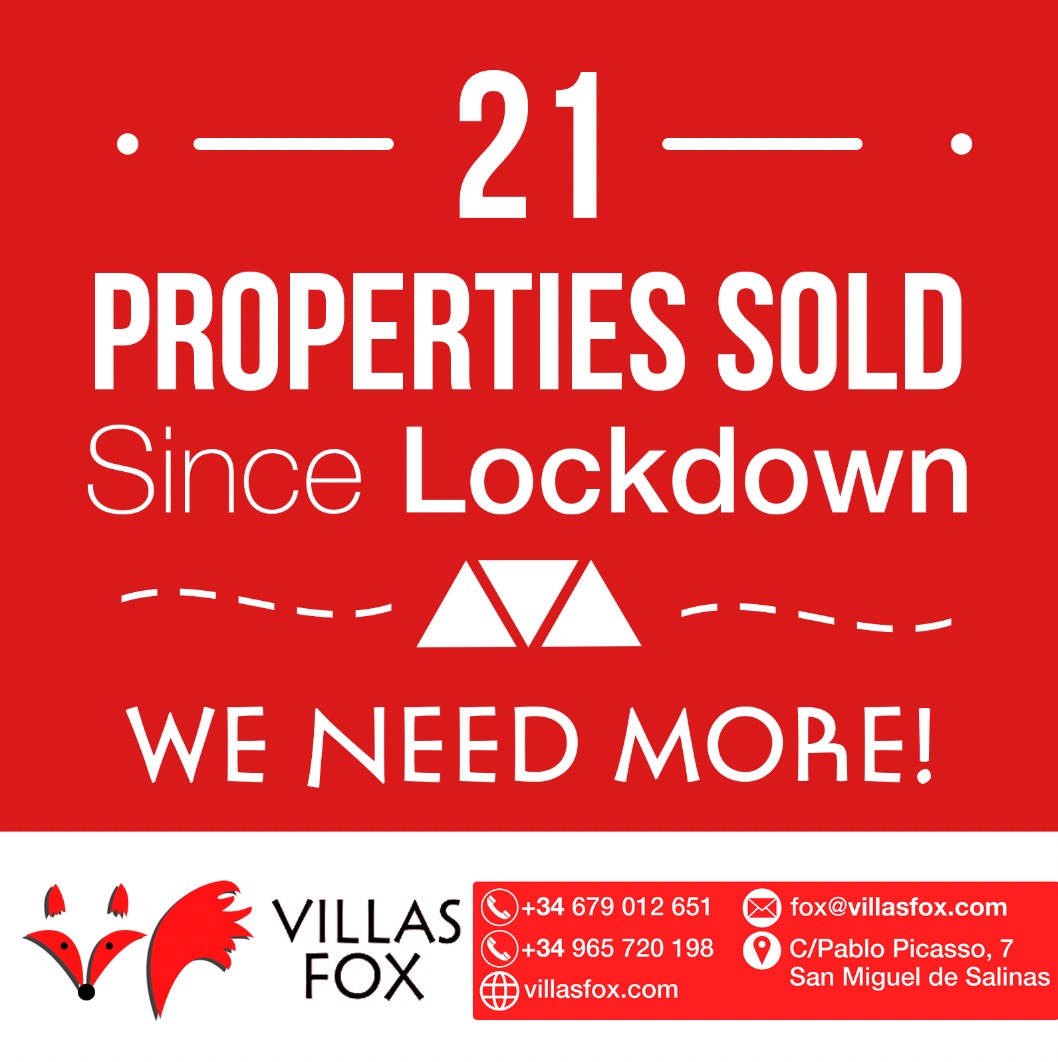 Details

Written by

Andy Fox

Category: Villas Fox Blog
Hits: 868
Teleworking becomes a market niche for the sale of homes in the province of Alicante
Provia and the Colegio de Apis detect an increase in the interest of German, Belgian, English and Madrid professionals to come to live on the Costa Blanca authorized by their companies - The covid pandemic has ended up promoting this work model
Fj Benito 05.08.2020 | 23:28 (https://www.diarioinformacion.com/noticias-suscriptor/alicante/2020/08/06/teletrabajo-convierte-nicho-mercado-venta/2289202.html)
Structure of a luxury residential building under construction in Benidorm. 
DAVID revenge
The empowerment of teleworking generated as a "labor patch" during the coronavirus crisis has opened in recent months a new real estate business niche in the province of Alicante, especially in the coastal strip, as demand has grown from numerous professional groups, foreigners and Spaniards, for acquiring a home in the province and residing in it throughout the year. This is confirmed by Provia and the Association of Real Estate Agents of Alicante. A market niche that is beginning to be a reality, as confirmed by the promoters.
The general secretary of Provia, Jesualdo Ros, stresses that "Alicante has been an attractive place for years for Europeans who combine residence and work , but we have now noticed a change with the situation compared to ten years ago. Before, they spent long periods of time working and then returned to their country, but now we have also detected that they settle in the province permanently, telework daily and travel to their cities of origin, for example, every fortnight. A practice that spreads in the national market, especially with Madrid ». Ros emphasizes that we are facing «one more piece but not only this one. This week, groups of French investors interested in promoting housing for over 55s, not just for retirees, contacted us.
Lockdown
Pablo Serna, CEO of Grupo Inmobiliario TM, one of the most active in everything related to residential tourism, agrees that "of course we are facing one more element for the board. This same week, reviewing the files of our buyers, I have met a client from Alicante, who works outside the province and who has asked us that the house he has acquired had three bedrooms to dedicate one to an office and be able to work like that from House. We also have buyers who were thinking of buying a home for retirementand with this of the covid and the confinement they have advanced the purchase ». Serna stresses that "there are many people in Europe who have been turned on a light with the pandemic, and they know that, in case of confinement, they will be better here than in their country, hence they also look for spacious apartments with terraces and houses with individual gardens ».
The majority profile of these potential buyers is that of English, German and Spanish citizens who already knew Alicante as a destination for their vacations and who have seen how their companies have chosen to continue teleworking permanently due to the global pandemic. «We are receiving a significant number of inquiries from people who are no longer tied to their countries of origin, with a less attractive climate, in order to develop their professional careers. In addition, faced with the threat of new confinements, these clients are looking for medium-sized single-family homes with gardens and expansion space, "explains Marifé Esteso, president of the College of APIs.
This situation has also been transferred to Spanish buyers, especially among middle-aged families with young children who seek good weather and wide spaces. "The coronavirus has caused a change in the preferences of our customers, so that the chalet or townhouse, with a plot and a pool, has become a product in high demand," Esteso points out. The head of the Association of Real Estate Agents highlights that Alicante maintains its great appeal as a destination for home purchases, and is convinced that a significant number of operations will be closed in the short and medium term.
Alicante continues to lead, despite the crisis, the ranking of home purchases by foreigners in Spain, a position that has not been as affected by Brexit as expected, and that can even be reinforced by the unexpected irruption of the telecommuting full time.
Marifé Esteso believes that this trend is very positive for the province of Alicante, since it implies a greater movement in the housing market and allows attracting professionals with high purchasing power throughout the year. "If Spain manages to prevent a major outbreak of coronavirus in the coming months, we may even find ourselves with the opportunity to attract younger buyers, who complement the more common profile of retirees who choose the Costa Blanca to retire," says the President of the Apis.
House prices have been stable since the start of the health crisis, a trend that is expected to continue until the end of the year. The APIs are confident that the arrival of citizens from all over Spain and the first foreigners will lead to a reactivation of the sector. The president of the API College of Alicante emphasizes that the province offers an image of security to foreign customers, since it continues to be a destination with good weather, well connected and with a quality health system.
On the other hand, in the case of housing development, the de-escalation has served to guarantee that pending commitments (delivery of housing) are met, but there is another issue that needs to be resolved, such as the granting of licenses . "There is demand but promotions do not start overnight. License and funding required. If the first does not exist, sales cannot be closed and the banks to give you the credit ask that you have 50% of the promotion sold, "reiterates Jesualdo Ros, Provia's general secretary. Provia insists that "municipalities must come out of their bubble and move licenses and tenders.
Residential tourism moves a total of 12,000 million euros per year , of which six billion correspond to the expense of foreigners who have their second residence in the province, and another six billion euros to the economic movement of apartment rental, villas and chalets, both regulated and those beyond the control of the Administration. In total, the activity represents 17% of GDP. The data of the study are unquestionable: 96,000 jobs a year between direct and indirect and an activity that helps to seasonally adjust and concentrates, according to the promoters' report, 60% of tourism spending.
In regions such as Vega Baja, employment represents 80%, occupying 13% of the land (6,000 of the 96,000 hectares), 20% of industry and 65% of agriculture. In total, there are 355 m? 2 in the province; per inhabitants, above the European average (300 m? 2;), but well below developed countries such as Finland (1,042 m? 2;), Sweden (703 m? 2;), Belgium (609 m? 2; ), Denmark (581) and France (457). Regarding the profile of these residential tourists on the Costa Blanca and their relationship with the environment, the report highlights their attachment to sustainable mobility and the use of renewable energy.
Price drop in July

On the other hand, the average price of new and used housing in Spain fell by 0.9% in July compared to the previous month, thus accumulating a fall of 1.9% since the declaration of the state of alarm in March and It is at the level of a year ago, according to the general index of the Tinsa IMIE General and Large Markets statistics. In this way, for the first time since August 2016, the interannual variation of the national index enters negative territory (-0.03%), as revealed yesterday by the director of the Tinsa Research Service, Rafael Gil, who explained that for a second consecutive month, generalized decreases were observed in the groups analyzed.
The Mediterranean coast maintains a significant gap with respect to the maximum prices reached in 2007, with a decrease of 44.4%. The accumulated fall also exceeds the Spanish average in metropolitan areas (-39.9%) and in the group of other municipalities (-34.8%). According to the appraisals carried out by Tinsa, the adjustment is being more pronounced in the markets most exposed to foreign demand and tourism, such as the islands and the coast.
Specifically, the average price in the Balearic and Canary Islands has fallen by 5.9% in the last month, placing the accumulated decrease since March in this group at 8.2%. For its part, on the Mediterranean coast, where the Costa Blanca is included, the adjustment was 2.4% in July compared to the previous month, which brings to 6.1% the accumulated fall since March, when it began to feel strongly about the economic crisis generated by the covid. Tinsa's study also shows that the average price of new and used housing has increased by 15.6% since it hit the ground in February 2015 during the previous crisis. On its side, the difference with respect to the highs of 2007 translates into a cumulative fall of 33.7%.
Online sales with Russian customers who are eager to return to the province

Regarding the start-up of the sector after the lack of refinement, the month of July has been somewhat irregular but positivein general terms. The promoters expected more due to the contained demand but are satisfied. The British market is currently very stagnant, but the German market is working and even operations by videoconference with Russian and Ukrainian investors are being closed, "who are eager to return to the province. I believe that when the borders are reopened there will be an avalanche of Russian tourists, "said Pablo Serna, TM's CEO. A July that came after a significant paralysis during the harsh months of confinement to the point that in May -the last month analyzed-, and compared to the same month of 2019, the sale of registered homes in the Valencian Community fell by 63.7 % (same result as for all properties), reaching 2,654 transactions. It was the second autonomous community where this type of operations fell the most, behind only the Canary Islands, standing ten points above the national average fall (-53.1%). In Spain, property registrars went from 46,000 operations in May 2019 to less than 22,000 last May. Paradoxically, despite the slowdown in April and May, the number of mortgages signed only decreased by 7% year-on-year in the accumulated of the first five months (January-May).